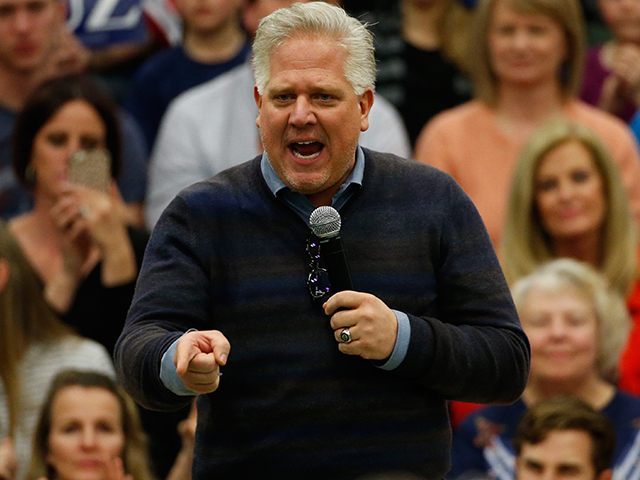 Glenn Beck at Cruz Rally in Utah, March 19, 2016
Yesterday in Utah at a political rally for Ted Cruz, Glenn Beck stepped up to the stage with mic in hand and admonished the predominantly Mormon audience to rise up and fulfill the "prophecy" allegedly uttered by Joseph Smith that someday the Constitution would "hang by a tread" and needed to be rescued by the "body of the priesthood." Memo to the people of Utah and to Glenn Beck - the informed priesthood will continue to look to their priesthood leaders for direction, not to you.
Beck fancies himself as a reliable historian, but in this instance he demonstrated his lack of understanding. He certainly didn't do his homework, or he never would have pulled out that card and played it. Or, maybe he knew full well what he was doing in the heat of the presidential campaign and was pulling out all the stops in his strident advocacy for Cruz among Christians whom he had criticized in other places for not rising up in support of Cruz. Whatever his reasons, he got this one dead wrong.
As reported by Breitbart, Beck said the following: "I want to speak to you about something that may be controversial. And it's not something that I have said when I have been out for Ted [Cruz] and now Mike [Lee]. But it's something that this crowd needs to hear – that Utah needs to hear. The body of the priesthood is known to stand up when the Constitution hangs by a thread," Beck said.
"I am a convert to the Church of Jesus Christ Latter Day Saints," he explained. "What attracted me was not only the truth of the message, but also the people like President [Harold B.] Lee and President [Ezra Taft] Benson who knew exactly who we were – knew who we were as a country," Beck said, naming prominent past presidents of the LDS Church.
"I joined many times. What held me through was the prophesy that the Constitution will hang by a thread, and this People would remember what our Founders did. It is our responsibility to stand for the Constitution," Beck said.
At this point, Ted Cruz and the audience gave Beck a standing ovation.
Now, before the hate mail pours in, let me make it clear that standing for the Constitution is something I believe we must do. But I guess this is what I hate most about political speeches. The ones we hear directed at Mormons often seek to blur the distinctive line between the Church and the political arena which the Church assiduously attempts to keep separate. Political speech is often drenched in emotional and often hyperbolic sentiment that crosses the borderline of fact and truth in the name of whipping up an audience into a silly patriotic frenzy that is more often than not misguided.
I wrote about
"The White Horse Prophecy" when Mitt Romney was ramping up his run against Obama in the 2012 election, and nothing has changed since my first post about it in 2010.
Most members of The Church of Jesus Christ of Latter-day Saints have heard about something called "The White Horse Prophecy," but few understand its origins and implications.
Beck forgot to look into the most recent invocation of this specious "prophecy" when an unwise Idaho gubernatorial candidate, Dr. Rex Rammell, the Tea Party's darling, was forming groups encouraging others to study "the White Horse prophecy" in depth. Only priesthood brethren were invited and were instructed to go home and tell their wives.
In advance of the primary election, on January 6, 2010, The Church of Jesus Christ of Latter-day Saints (the Mormons) to which Glenn Beck belongs, was compelled to clarify the matter with this statement:
Two weeks ago The Church of Jesus Christ of Latter-day Saints issued a statement regarding the so-called "White Horse prophecy" in response to news inquiries regarding comments made by an Idaho politician. The matter has received additional coverage in the news media of late and so we reiterate that statement here:
"The Church of Jesus Christ of Latter-day Saints is politically neutral and does not endorse or promote any candidate, party or platform. Accordingly, we hope that the campaign practices of political candidates would not suggest that their candidacy is supported by or connected to the church.
"The so-called 'White Horse Prophecy' is based on accounts that have not been substantiated by historical research and is not embraced as Church doctrine."
Rammell's candidacy did elicit some support, if not entirely because of the controversy. In the 2010 Republican gubernatorial primary, he lost, but the veterinarian was successful in beating incumbent, C.L. "Butch" Otter in two counties and tying him in another.
So fast forward to yesterday in Utah. In the topsy-turvy world of national politics this year, Beck continues to fan the flames of rumor that persist that Joseph Smith purportedly said something to the effect in a private conversation with two Church members that the day would come when the Constitution of the United States would "hang by a thread," and the "elders of the Church would be called upon to rescue it."
Beck needs to read this page, however, and he would learn the veracity and accuracy of the report of that conversation has always been in question because the recollections of the two men, Edwin Rushton and Theodore Turley, were not recorded in a diary by their friend, John J. Roberts, until ten years later when they were old men. Roberts first heard about it in the 1850s. As far as we know, the Prophet Joseph never taught anything like that publicly.
I believe the best in-depth treatment of this topic, if you're interested, is available here.
It is clear there are numerous historical statements in support of the ideas expressed, but for the most part they are no better than the foundation upon which they rest -- the journal entry of a man who heard what two other men heard Joseph Smith say ten years earlier. Not exactly reliable and sound investigative journalism.
This isn't the first time this has happened. Besides the incidents surrounding Rammel's ill-fated gubernatorial race in Idaho, it surfaced in the presidential campaign of Senator Orrin Hatch, and then when Mitt Romney ran for Governor of Massachusetts, and then again when he ran for the presidency in 2012. Both were also Mormons (yes, Donald J. Trump, Mitt Romney IS a Mormon). However, to their credit, both disavowed the so-called "prophecy" then and so did the Church. Senator Mike Lee (R-UT) would do well to immediately disavow what was said in his presence yesterday and put himself on the side of the Church and a more accurate accounting of the history.
Politically, it's a negatively charged idea that the Church and/or its elders and/or an elder riding on a white horse (there are many possibilities) is somehow going to swoop in and take over a contested national Republican convention in Cleveland, or eventually the federal government that needs rescuing in a time of trouble. Like most faith-promoting rumors, this one is lacking in substance when the facts are examined in depth.
That we believe as a Church the Savior will return and reign as King of kings and Lord of lords is indisputable (see Revelation 17:14; 19:16 for example), but to say the Church is going to set up a replacement government before that time is irresponsible and unfounded on all fronts.
Once again, Glenn Beck fails to pass the accuracy test and reveals himself for what he is - nothing more than yet another false prophet, however well-intentioned.